Tuesday, April 10th.
THE RUSSIAN INVESTIGATION:  ROSENSTEIN SIGNED OFF ON COHEN RAID, MUELLER MET WITH TRUMP'S LEGAL TEAM YESTERDAY, MULTIPLE SEYCHELLES MEETINGS TOOK PLACE AND MUELLER KNOWS ABOUT THEM, SPECIAL COUNSELOR OFFICE TOOK PRIVILEGED COMMUNICATIONS WITH COHEN, RACHEL MADDOW HAS DANA BOENTE'S NOTES FROM JAMES COMEY, AND MAGGIE HABERMAN TRIES TO BURY THEM ALL WITH OLD NEWS
Back in December, Daily Check-In 12/06/2017, Trump threw a temper tantrum and said "I'm gonna fire Mueller! Wa, Waaa!" after news broke about  Mueller subpoenaing Deutschebank for Trump Org records.  His staff talked him down (not that he could do much of anything in the first place).  There were tons of rumors, and stories, about Trump wanting to fire Mueller.
Fast forward to Daily Check-In 01/25/2018 and Daily Check-In 01/26/2018.  The Dutch announce that they pwned the Russian GRU sponsored groups of Cozy Bear and Fancy Bear, and they have proof that the Russians fucked with the American Election, and it wasn't the first time the Dutch helped the Yankees.
What was the big story of the day?  Maggie Haberman releasing a story that Trump wanted to fire Mueller back in June 2017 when Jared did something stupid.  That story took the stage and pushed the Dutch Intelligence story out of the spotlight.  While the MSM tripped over their own dicks talking about Maggie's story, they completely dropped the ball on should have been the biggest story in the world.
So, when Maggie dropped another story about Trump wanting to fire Mueller, my first question is "What is she trying to cover up?"
Let's go through today's topics.
Michael Cohen gets his shit fucked up…
Congress doesn't like cut of Trump's jib…
"I have confidence in Mueller. The president ought to have confidence in Mueller. I think … it would be suicide for the president to want, to talk about firing Mueller," Senate Judiciary Committee Chairman Charles E. Grassley (R-Iowa) said on Fox Business Network. "The less the president said on this whole thing, the better off he would be, the stronger his presidency would be."
Trump attacks American law enforcement more ferociously than he has ever talked about the Russians…
Trump's pick for the SDNY US Attorney had to recuse himself from the Cohen Investigation…
ABC News has learned that Geoffrey Berman, the U.S. Attorney for the Southern District of New York, is recused from the Michael Cohen investigation.

Two sources familiar with the matter tell ABC News Berman was not involved in the decision to raid Cohen's office because of the recusal.

The recusal was approved by Deputy Attorney General Rod Rosenstein.

The raid of Cohen's handled by others in the office of the U.S. Attorney for the Southern District of New York and approved by a federal judge.

Berman is a Trump appointee with ties to Rudy Giuliani who donated money to the 2016 Trump campaign.

The U.S. Attorney's office declined to comment.
Wow.  That's what happens when the President personally interviews attorneys; they have to recuse themselves from investigations regarding the team who interviewed them.
The Assistant US Attorney for SDNY would have made the call to move forward with this line, but ultimately doing a no-knock raid on multiple locations belonging to an attorney requires high level DOJ sign-off, Associate AG or higher, and only after proving that there is no other way to get the required evidence.
The choice to the raid was probably pushed by Berman's second, but was ultimately agreed to by Rosenstein.
Berman is located in the chart below.  Then again, so is everyone else.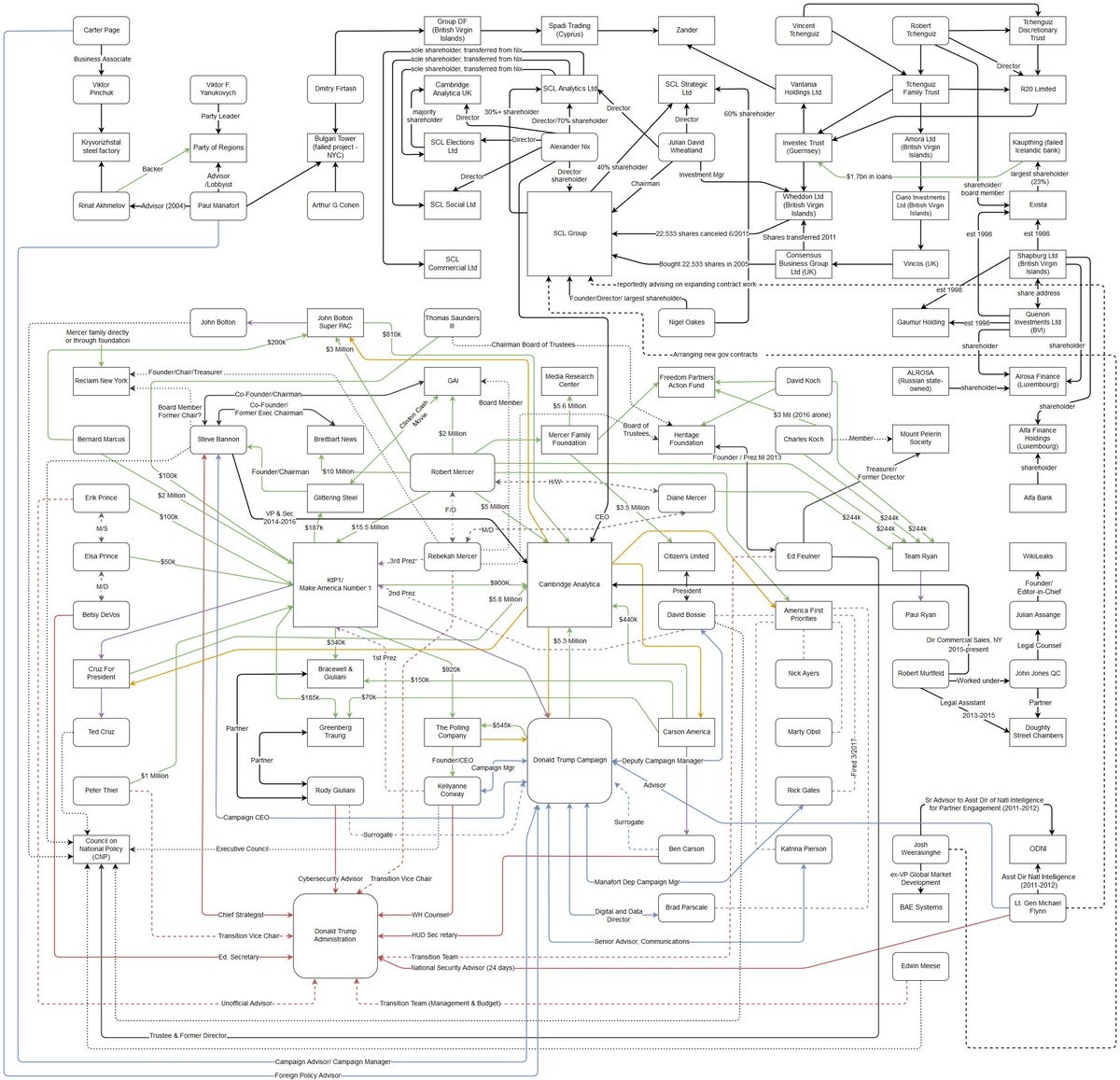 There were multiple meetings in the Seychelles, and Mueller knows because George Nader set them up…
The meetings – which included players from the U.S., Russia, Saudi Arabia and the United Arab Emirates – have become a key focus in Mueller's probe, and suggest that investigators have become increasingly interested in whether foreign governments, particularly Gulf states, have sought to leverage influence in the Trump administration.

Several of those meetings took place around the same time that Blackwater founder Erik Prince met with Kirill Dmitriev, a wealthy Russian banker, and Crown Prince Mohammed Bin Zayed Al-Nahyan, the de facto ruler of the UAE, in January 2017, NJ.com reported.
The sources said several of those meetings took place around the same time as another meeting in the Seychelles between Erik Prince, founder of the security company Blackwater, Kirill Dmitriev, the director of one of Russia's sovereign wealth funds, and Crown Prince Mohammed Bin Zayed Al-Nahyan, the effective ruler of the United Arab Emirates (also known as "MBZ"). Details of that earlier meeting were first reported by the Washington Post last year.
That is meetings.  Plural.  As in more than one.
Problems from 2016 are coming forward…
Trump's legal team met with Mueller's team while the raid was going on…
Trump's own people either signed off on the raid or know he's wrong…
The raid involved Cohen's communications with Manafort AND Stormy Daniels…
The Stooges helping him are cornered…
Oh, and by the way…
Former EDVA, Acting Deputy Attorney General, Acting Attorney General, and current FBI General Counselor Dana Boente has been approached by the Special Counselor's Office to testify before the Grand Jury as a witness.  Boente, the poison pill from Daily Check-In 02/09/2018, and hired into a position by FBI Director Christopher Wray into a position where Sessions and Trump can't touch him (Daily Check-In 01/23/2018  and Daily Check-In 01/29/2018).
Comey took notes on his meetings with Trump.  Know who he talked to?  Know who took notes?
Dana Fucking Boente.
And Rachel Maddow has some of those notes, and just broadcast them to the world.
This directly ties Donald J. Trump, President of the United States of America, to criminal activities.
Take a guess as to which story Maggie's trying to cover up.
CAMBRIDGE ANALYTICA AND FACEBOOK: MARK ZUCKERBERG TESTIFIED BEFORE CONGRESS, REDDIT OUTS THE TROLLS
I have battled more than a few names on that list.  Instead of deleting them, I would like to see Reddit flag and tag them.  Illuminate the accounts and their actions, and highlight the trolls for the world to see.
Sunlight is the best disinfectant.
THE PROPAGANDA MACHINE:  FOX NEWS TELLS TRUMP TO FIRE MUELLER, SINCLAIR ATTACKS CNN AS PARTISAN, RUPERT MURDOCH'S OFFICES IN LONDON RAIDED
WHITE HOUSE CHAOS:  JOHN BOLTON FIRES TOM BOSSERT
#NEVERAGAIN:  A RED HOT POKER?
He reportedly said Hogg should expect push-back if he's going to "get his hands dirty" in political issues and advised him to "just be a grownup about it."

"Which, in Allman's world, apparently means being threatened publicly with sodomy before you're even old enough to vote," the Riverfront Times wrote.
Really?  Ass play with a red hot poker?  What the fuck, over?
STORMYWATCH:  NOW WITH THAT CRIMINAL FLAVOR
SAY GOODBYE TO THE ECONOMY:  PEPPERIDGE FARM REMEMBERS
COLD WAR 2.0:  TROUBLE IN SYRIA
CAN WE GET BACK TO POLITICS?
RUMOR MILL:  BE READY TO WALK, RACHEL'S STORY, AND THE BATTLE OF THE REGULATION
The chatter about large-name firings is louder than normal, but still not completely freaking out.  That being said, I want to be like a little person with a stepladder in their backpack; ready for anything.
One thing that does strike me as odd is the subtext about Rachel Maddow's show tonight. How did she get copies of the actual notes?  How long ago did they get this?  How long have they worked on this story?
Finally, it would be nice if some of these journalists actually looked at the Special Counselor regulation.  Trump can't fire Mueller directly.  Only the AG, or DAG in this case, can fire him.  Firing the DAG moves the authority down the line to the next in line, and so on and so on.  Problem is, there's no guarantee that would actually work.  Trump's "action of last resort" would be to try to wipe out the regulation by changing the regulation himself, but that's an even bigger legal battle.  Not only would DOJ slow walk this through, but it would be challenged in court faster than an NFL Instant Replay.
That's it for today.  It's only TUESDAY!  If things calm down this week (hahahahahahahahahahahahahahahaha) I'll update a few of the smaller articles, like who flipped, the various Russians involved, the spies, et cetera.
Remember, this is gonna get crazier before it calms down, but liberty, democracy, and freedom are worth the fight.
Thank you, and have a good one.
"Without Journalists, it's just propaganda."
– Katy Tur