Monday, February 25, 2019
THE RUSSIAN INVESTIGATION
Manafort
Emptywheel dives pretty deep into the weeds on this, but she pulls on something significant.  According to the footnotes from the Mueller filings on Manafort, and from Manafort's own legal team, he handed over 75 pages of polling data to Konstantin Kilimnik.  75 pages.  That's quite a bit of polling data making its way from the Trump Campaign chairman to a man with ties to Russian Intelligence.
Donnie Jr.
Crimes before the election don't count?  This might be the dumbest thing he's said this week.  Let's think about the stupidity of Donnie Jr.
First, he's trying to minimize the amount of trouble he's in by saying that Mueller isn't investigating "real crimes."  He's trying to say that no one did any "real crimes" like murder, only "fake crimes" like witness tampering, obstruction of justice, lying to investigators, lying to Congress, aiding and abetting treason, aiding and abetting espionage, money laundering, and fraud.
Second, his argument then implies that crimes from before the election should be off limits.
Using a very simple form of logic, this dumb mother fucker just admitted to "real crimes" before the election.
That, or he's too stupid to realize he just implicated himself in a few dozen crimes.
The Mole
John's hypothesis is that the mole isn't a person but a compromised source of data, like a WhatsApp chat or a hacked phone.
While Team Trump is tearing itself apart looking for a person, they could still be compromised to this day.
COHEN, NEW YORK, AND THE OTHER LAWSUITS
Obstruction
Sexual Assault
TRUMP THE RUSSIAN ASSET A.K.A. INDIVIDUAL-1
Spike Lee
North Korea Summit
TRAITOR TOTS
FIGHTING BACK
CONGRESS
EMERGENCIES, SHUTDOWN & IMMIGRATION
RIGHT WING TERRORISM & WHITE NATIONALISM
#METOO & WOMEN'S RIGHTS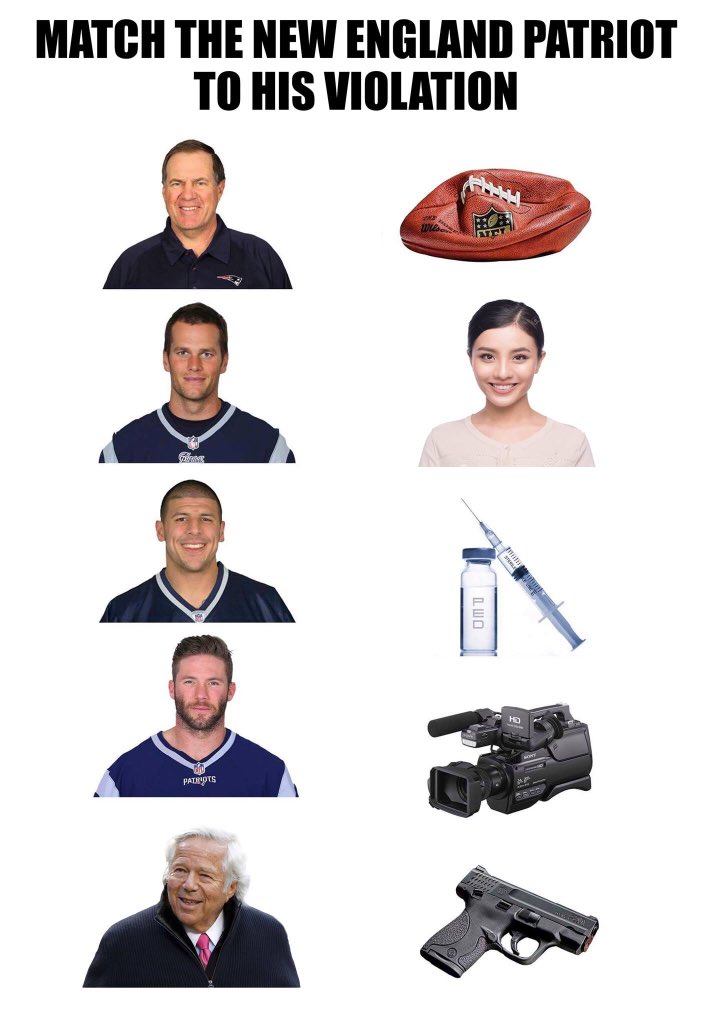 For those that don't follow football, from top to bottom the people on the left are the Patriots Head Coach Bill Belichick who was caught illegally filming the signals of opposing coaches; Quarterback Tom Brady who was suspended for four games for playing with underinflated balls; Tight End Aaron Hernandez who killed a man, convicted of murder, then hung himself in prison while his case was on appeal; Wide Reciever Julian Edelman who was suspended for using performance enhancing drugs; Owner Bob Kraft who got a handjob on one visit to the spa and a blowjob the next day.  He was arrested on Daily Check-In 02/22/2019.
COLD WAR 2.0
#NEVERAGAIN
FIXING THE INTERNET
THE PROPAGANDA MACHINE
TRADE WAR, HEALTH CARE, AND ECONOMY
STUDENT ISSUES
GOP: THE PARTY OF LINCOLN IS DEAD
CRIME AND PUNISHMENT
PRIESTS & RELIGION
ENVIRONMENT & SCIENCE
ELECTIONS
THINKING AHEAD
IN OTHER NEWS…
RUMOR MILL
That's it for Monday.  Another day of craziness.  Tuesday brings the first day of Cohen's three day testimony blitz.
I'll have an update over the next few days on a few things I'm working on.  I think I solved a problem, but I don't want to celebrate until I'm sure it worked.
Thank you, and have a good one.
"Without Journalists, it's just propaganda."
– Katy Tur