Friday, January 11, 2019.  It's Friday, so it should be quiet, right?
Wait, what?  Ah, son of a …
THE RUSSIAN INVESTIGATION
WASHINGTON — In the days after President Trump fired James B. Comey as F.B.I. director, law enforcement officials became so concerned by the president's behavior that they began investigating whether he had been working on behalf of Russia against American interests, according to former law enforcement officials and others familiar with the investigation.

The inquiry carried explosive implications. Counterintelligence investigators had to consider whether the president's own actions constituted a possible threat to national security. Agents also sought to determine whether Mr. Trump was knowingly working for Russia or had unwittingly fallen under Moscow's influence.

The investigation the F.B.I. opened into Mr. Trump also had a criminal aspect, which has long been publicly known: whether his firing of Mr. Comey constituted obstruction of justice.

Agents and senior F.B.I. officials had grown suspicious of Mr. Trump's ties to Russia during the 2016 campaign but held off on opening an investigation into him, the people said, in part because they were uncertain how to proceed with an inquiry of such sensitivity and magnitude. But the president's activities before and after Mr. Comey's firing in May 2017, particularly two instances in which Mr. Trump tied the Comey dismissal to the Russia investigation, helped prompt the counterintelligence aspect of the inquiry, the people said.

The special counsel, Robert S. Mueller III, took over the inquiry into Mr. Trump when he was appointed, days after F.B.I. officials opened it. That inquiry is part of Mr. Mueller's broader examination of how Russian operatives interfered in the 2016 election and whether any Trump associates conspired with them. It is unclear whether Mr. Mueller is still pursuing the counterintelligence matter, and some former law enforcement officials outside the investigation have questioned whether agents overstepped in opening it.

The criminal and counterintelligence elements were coupled together into one investigation, former law enforcement officials said in interviews in recent weeks, because if Mr. Trump had ousted the head of the F.B.I. to impede or even end the Russia investigation, that was both a possible crime and a national security concern. The F.B.I.'s counterintelligence division handles national security matters.

…

After Mr. Comey was fired on May 9, 2017, two more of Mr. Trump's actions prompted them to quickly abandon those reservations.

The first was a letter Mr. Trump wanted to send to Mr. Comey about his firing, but never did, in which he mentioned the Russia investigation. In the letter, Mr. Trump thanked Mr. Comey for previously telling him he was not a subject of the F.B.I.'s Russia investigation.

…

The second event that troubled investigators was an NBC News interview two days after Mr. Comey's firing in which Mr. Trump appeared to say he had dismissed Mr. Comey because of the Russia inquiry.

"I was going to fire Comey knowing there was no good time to do it," he said. "And in fact, when I decided to just do it, I said to myself — I said, you know, this Russia thing with Trump and Russia is a made-up story. It's an excuse by the Democrats for having lost an election that they should've won."
Always on a Friday.
When I saw this story come across the wire, I said to myself "Self, this seems like it's pretty big."  And it is.  This is a major revelation in the Russian Investigation.  But at the same time, it's bigger for what it means for those of us who've been following the events of the last few years.
It's confirmation.  Confirmation of the early moments of the investigation, and how serious the FBI took this threat.  It's confirmation of a lot of the rumors I've heard over the years, and it's confirmation that this is much farther along than most people think.
Let's break this down and look at it, one piece at a time.
First, this report establishes that Trump's actions throughout the campaign and the early parts of his presidency were alarming enough for the FBI, and that they saw enough "coincidences" in Trump's behavior toward Russia, that they decided to open a counterintelligence investigation into the President of the United States.  They felt that he was a security risk.
The President of the United States was seen as a security threat to the United States of America.  Let that sink in.
Next, the purpose of the investigation was to determine whether Trump was an unwitting asset or a full-on spy for the Russians.  Notice how I didn't say he wasn't involved at all?  Because by this point, there were too many coincidences for Trump to not be involved with Russia.  That, and the FBI had been investigating those around him for almost a year at this point.
Further, it looks like the Comey Firing was a panic point for the FBI and was the line that shouldn't be crossed.  And it wasn't just that Comey was fired, but HOW he was fired.  In my life, I've had more than a few conversations with HR.  I've also had to do a lot of studying and training into various legalities about when, who, and how a person can be relieved from their position.  One of the things I've learned is that when asked for an official reason for firing an employee, it should not reference anything to do with any protected class such as race, creed, sexuality, nor should it refer to any actions that could be involved in litigation.  It also shouldn't reference performance unless that behavior can be backed up with paperwork, and keep ones mouth shut after just in case they decide to challenge this in court or in front of the unemployment board.
Trump fucked all that up with the Comey Firing.  He stated to assistants that he wanted to fire him over Russia, had a letter written to that point, and even after the White House Counsel killed that one and got a better reason from the Deputy Attorney General, Trump still referenced Russia in his personal firing letter.  Then, he goes on national television the VERY NEXT FUCKING NIGHT and says he fired Comey over Russia.  And he repeated it to the Russians IN THE OVAL OFFICE!  If I were in Comey's shoes and needed to prove to the Labor Board that my firing was based off of the Russian Investigation, I would have a slam dunk case against Trump.
Next, remember the craziness that occurred with Comey's laptop around his firing? It's referred to here, but I'll give the short, short version.  Keith Schiller, Trump's longtime bodyguard, followed him to D.C. to serve some bullshit position as his muscle.  When Trump fired Comey, he officially sent Schiller to FBI HQ to hand deliver the firing letter.  Unofficially, he was supposed to get Comey's laptop and computer files while he was there.  That last part didn't work for two reasons.  The FBI wouldn't let him leave with anything, and the laptop wasn't there. See, Trump is an idiot and doesn't realize that people on a work trip would take their work laptop with them.  Comey was visiting the FBI Los Angeles Office when he was fired.  He took his laptop with him.  Eventually, according to rumors, they did get their hands on it through Jeff Sessions and others at the Justice Department, but that didn't end well for them.  There were some tracking files placed on Comey's laptop that let the FBI trace who had access to it after Comey was fired.  But that's another story for another time.
Also, keep in mind that this was the one of the craziest weeks in American history.  From May 9th 2017 to 2017, here's a short list of what happened:
President Trump fired FBI Director Comey.
The Deputy Attorney General essentially becomes the head of the Russian Investigation.
The FBI had multiple criminal and counterintelligence investigations looking Trump, his campaign, his family, his associates, the Russians he talked to, other foreign leaders, and the like.
Trump brags to the Russian Foreign Minister and Ambassador about firing Comey removed pressure from the Russian Investigation.
Trump then burns an above top secret program to the Russians involving an Israeli spy embedded deep inside of ISIS in Syria.
The White House denies the meeting happened, American press were barred from covering it, and Trump denies anything happened.
Russian press outlets like RT and Sputnik release pictures and transcripts from the meeting.
The DAG, Rod Rosenstein, gets dragged through the mud for being the reason that Comey was fired, as his letter critiquing the handling of HRC's emails is floated as the official reason to the American people for a couple days.
Trump then goes on national television and admits to Lester Holt that he was thinking about Russia when he fired James Comey.
DAG Rosenstein interviews Robert S. Mueller III for possibly taking over the Russian Investigation.
Trump interviews Mueller for the open FBI Director position.  He also interviews Andrew McCabe and a few other people with connections to the FBI.
The WannaCry ransomware attack starts with the first reports of infected systems coming from Ukraine. It then spread through Eastern Europe and into America pretty damn quick.  Initial reports on who created it pointed to Iran, but the release schedule pointed to Russian GRU.  It was likely designed by Iranians, but introduced into the wild by Russia.
Trump tweets out that Comey better not lie about his conversations with him because "there might be tapes", inferring that he recorded their conversations.
Comey tells his friend at Columbia University to tell the Press that Comey wrote multiple extraneous memos about his meetings with Trump.
Putin offered to vouch for Trump about leaking classified intel.
News of even more ties between Trump, Putin, and Russian banks come out.
DAG Rosenstein appoints Mueller as Special Counselor for the Russian Investigation, and assigns all of the open investigations to him.  He's authorized to go wherever the evidence leads him.
The White House has a shit fit about the Mueller news.
Yeah, that all happened in about 10 days.  The same period that this story comes from.
Finally, the article points out two very important points:
No evidence has emerged publicly that Mr. Trump was secretly in contact with or took direction from Russian government officials. An F.B.I. spokeswoman and a spokesman for the special counsel's office both declined to comment.
That's some awfully interesting phrasing there.  I highlighted the most important word of that sentence.  Publicly.  That's a very interesting word to insert into an article about an investigation into whether or not Trump is a spy for the Russians.
Take this as a spoiler.  More shit is on the way.
The special counsel, Robert S. Mueller III, took over the inquiry into Mr. Trump when he was appointed, days after F.B.I. officials opened it. That inquiry is part of Mr. Mueller's broader examination of how Russian operatives interfered in the 2016 election and whether any Trump associates conspired with them. It is unclear whether Mr. Mueller is still pursuing the counterintelligence matter, and some former law enforcement officials outside the investigation have questioned whether agents overstepped in opening it.
Of course this is why we haven't heard this confirmation until today.  It's inside of Mueller's Black Box.  Nothing escapes without permission.
Rudolph W. Giuliani, a lawyer for the president, sought to play down the significance of the investigation. "The fact that it goes back a year and a half and nothing came of it that showed a breach of national security means they found nothing," Mr. Giuliani said on Friday, though he acknowledged that he had no insight into the inquiry.
This is complete and utter horseshoe being spewed by Colludy Giuliani.  What makes him think that if, even if, his client were under a counterintelligence investigation that the FBI would be under any obligation to tell him?  Especially if they suspect that it's true, that he's not an unwitting asset but an accomplice?  The FBI isn't exactly known for going up to spies and saying "by the way, we think your a spy, so stop spying, mmkay?"
President Trump has gone to extraordinary lengths to conceal details of his conversations with Russian President Vladi­mir Putin, including on at least one occasion taking possession of the notes of his own interpreter and instructing the linguist not to discuss what had transpired with other administration officials, current and former U.S. officials said.

Trump did so after a meeting with Putin in 2017 in Hamburg that was also attended by then-Secretary of State Rex Tillerson. U.S. officials learned of Trump's actions when a White House adviser and a senior State Department official sought information from the interpreter beyond a readout shared by Tillerson.

The constraints that Trump imposed are part of a broader pattern by the president of shielding his communications with Putin from public scrutiny and preventing even high-ranking officials in his own administration from fully knowing what he has told one of the United States' main adversaries.

As a result, U.S. officials said there is no detailed record, even in classified files, of Trump's face-to-face interactions with the Russian leader at five locations over the past two years. Such a gap would be unusual in any presidency, let alone one that Russia sought to install through what U.S. intelligence agencies have described as an unprecedented campaign of election interference.
Well, this makes things even more interesting.  Trump has gone out of his way to keep the notes of his meetings and calls with Vladimir Putin out of the hands of his staff and administration.  This includes keeping it from the Intelligence Community, the State Department, and even his own archivists.
I don't know about all y'all, but that sounds like covering something up.  Almost like he's going out of his way to keep something out of reach.  Like, how he's Putin's Cock Holster.
Trump Dodges Question on Fox News if He's a Russian Asset 
In a on air phone call with Judge Jeanine on Fox News Saturday night President Trump respond to new reports this week by the New York Times that revealed the FBI had opened an investigation into president Trump for fear he was acting as foreign agent for Russia—knowingly, or unknowingly. Trump would not give a straightforward answer when host Jeanine Pirro pressed him on whether or not he's working as a Russian asset. "Are you now or have you ever worked for Russia Mr. President?" Pirro asked the President. "I think it's the most insulting thing I've ever been asked. I think it's the most insulting article I've ever had written," Trump responded. "And if you read the article you'd see that they found absolutely nothing." When Pirro moved on to questions regarding the follow-up report by the Washington Post revealing how the president went to unusual lengths to keep conversations with Russian president Vladimir Putin under wraps Trump denied ever doing so and said he would be happy to share the details of those conversations. "Well Jeanine I would, I don't care," Trump said. "I'm not keeping anything under wraps, I couldn't care less."
A… How… Wha…
The author of this site is now shaking his head after trying to make sense of the world salad he was just fed.  He didn't ask for the Bullshit Dressing to go with his Word Salad, but instead of returning it, he'll dive in.
What in the fuck was that?  All he had to do was say "No, that's absurd", and then Judge Leadfoot could go on to the next softball question like "What's your favorite color?" or "What's two plus two?"
Oh, who am I kidding, he'd fuck those up, too.
This interview reminds me of Jerry Sandusky's interview with Bob Costas following his arrest for fucking several young boys over a span of about 30 years.  Jerry was Joe Paterno's long time defensive coordinator and friend.  Many of Jerry's crimes took place on campus. The fallout that occurred at Penn State when it came out that his crimes were at least partially covered up destroyed Paterno's legacy.
In the interview, Bob Costas asked Jerry Sandusky if he was attracted to young boys.  This is a pretty easy question.  All he has to say is "No, of course not."  Instead, he's talking about he "horsed around" with them and the like.
Trump fucked up worse than Jerry Sandusky.  I never thought I'd have to write that sentence.  I need a fucking drink.
Legendary journalist Carl Bernstein has said that he's been told that special counsel Robert Mueller's report will show how President Donald Trump helped Russia "destabilize the United States."

Bernstein, who is renowned for his coverage of the Watergate scandal that led to the resignation of former President Richard Nixon, appeared on CNN's Reliable Sources on Sunday to discuss two bombshell reports released this weekend, one from The New York Times and one from The Washington Post, which revealed new details about whether or not Trump and his aides have colluded with Russia.
This is something that should be abundantly clear by now to anyone paying attention, but the bulk of Mueller's work is not just an Obstruction inquiry, but whether or not Trump is working for the Russians.
Just in the past week, we've heard several new pieces of information that point to this conclusion.  Why?  I'll answer that in the Coda.
Rudy Giuliani says President Trump's legal team should be allowed to "correct" special counsel Robert Mueller's final report before Congress or the American people get the chance to read it.

The claim, made in a telephone interview with The Hill on Thursday evening, goes further than the president's legal advisers have ever gone before in arguing they have a right to review the conclusions of Mueller's probe, which is now in its 20th month.

"As a matter of fairness, they should show it to you – so we can correct it if they're wrong," said the former New York City mayor, who is a member of Trump's personal legal team. "They're not God, after all. They could be wrong."

The special counsel's office declined to comment.
Seriously?  Assuming for a moment that Colludy Rudy isn't just trying to blow smoke up people's asses, which he is, let's think about this for a second.
A former prosecutor who is representing a client on a criminal investigation is insisting that he and his client be allowed to edit the report that lays out the criminal behavior his client engaged in.
In what universe does he think that's acceptable?  This is just more of "Colludy Rudy Lubing the Truth".
Round-Up
"Agents also sought to determine whether Mr. Trump was knowingly working for Russia or had unwittingly fallen under Moscow's influence." The efforts to lift sanctions on Russia. The Helsinki capitulation. Mueller saw all of it through the lens of this investigation

I think Mueller's report is about to be significantly different than many people have anticipated. The fact this probe was opened into whether Trump has been acting as a Russian asset DURING his presidency, and Mueller took it over, changes the context dramatically.

The FBI launched a probe, that Mueller took over, into whether the President of the United States is a Russian asset. This is wild.
Regarding this NYT story from this weekend, imagine you are a FBI Agent working Russian counterintelligence in 2016 and you witness the following:

– you witnessed Russian hackers targeting a wide swath of Americans including the DNC, DCCC, former Secretary of State & a Presidential candidates staff
– someone previously targeted by Russian Intelligence joins the Trump campaign and then appears on a stage in Moscow supporting Russia policy and speaking negatively of US policy
– A Presidential candidate hires a new campaign manager whose not been in the business in the states for years, but has been seen pushing a Russian agenda in Ukraine and has Russian intel contacts
– an Australian official contacts you and says the Russians have stolen emails of a Presidential candidate & may want to give them to the candidate's competitor
– a Russian lawyer & others tied to Russian government visit a Presidential candidate's son in the candidate's building in NYC
– Candidate Trump stands on a stage and calls out Russia and asks about emails from his competitor, says they will be rewarded if they have them and release them
– website that's released sensitive & classified documents from US for years, helped deliver a US insider to The Kremlin, begins publishing document & emails during Dem convention, content you know was stolen by Russia. Site administrator once hosted a TV show on Russia State TV
– A strange, unexpected policy change occurs at RNC convention, the change is a less supportive position toward Ukraine and is advantageous to Russia
– candidate's campaign manager goes on CNN and asserts a false terrorist attack in Turkey, one tied to and advanced by Russian propaganda
– during this time, you watch a campaign associate tweet with a Russian account that's pointing people to stolen documents from the opposing campaign. The campaign associate predicts something will happen to the opposing campaign manager- his emails are later released
– as Election Day approaches, Presidential candidate makes allegation, without evidence, voter Fraud & Election Rigging, Russia propaganda echoes this, social media accounts associated Kremlin do the same, at same time, you watch Russian Hackers hit state election infrastructure
After election, current President issues sanctions against Russia, but the incoming National Security advisor makes calls to Russian officials from 3rd country, when approached for clarification post inauguration, the advisor lies about contents of phone call w/Russian officials
During summer fall leading into the election, you receive raw intelligence from highly reliable source whose proven invaluable on other investigations. source provides intelligence on Russia's efforts to support a presidential candidate, the info is consistent with other info
Before inauguration your bosses, your leaders from all intelligence agencies brief president elect on classified info showing Russia influenced the election on behalf of President elect. President elect rejects intelligence from all your superiors and suggests Russia innocent
From the summer of 2015 all the way through the election and after inauguration, you watch as the candidate, president elect and now president offers overt effusive support for Vladimir Putin who you know has been helping the President get elected.
Shortly after inauguration, your new commander-in-chief spouts false information about Polish aggression toward Belarus. This is not supported by the Intelligence community you are in, and the only source for this viewpoint is Russian propaganda
After firing of National Security Advisor that lies to you agencies investigators, the President corners your boss 1-1 asks him to go easy on National Security Advisor who lies about his conversation with Russians
During this period, the President inexplicably and repeatedly asks your boss if he's under investigation with regards to Russia, despite your boss and other intel heads going out of their way to brief the President about Kremlin efforts to potentially compromise & manipulate him
While Congressional committees investigate Russian interference, the President fires your boss for his handling of an email investigation into the President's opponent, an investigation that helped elevate the President rather than hurt him
You later find out a draft memo from President to your boss regarding his firing cited the Russia investigation
The President then goes on national television and in an interview says he fired your boss because of the Russia investigation
A week after firing your boss, the President invites Russian leaders into the Oval Office, Russian photographers capture the moment, but US media is not allowed to observe. President then brags to Russian leaders about firing your boss
Sometime during the spring, if you're not already aware, you read a news story alleging the President's son-in-law may have sought a way to communicate with Russia via a back channel not monitored by you and your colleagues
During summer, you watch the President attend NATO summit and shove Montenegro PM, in an Interview claim Montenegro is aggressive, might start a war. This mirrors Russian propaganda & you know Russia backed covert operation destabilize Montenegrin election
For next year, either you, your colleagues and your organization, FBI, are discredited by President. He mixes true and false information in public disclosures which you are not allowed to respond to. If you do respond, your accused of leaking and could be fired or even jailed
Documents & information from confidential sources you've pledged to protect, are selectively leaked into public through those who are supposed to provide government oversight. These inappropriate disclosures make your job as an investigator nearly impossible & hurts your sources
At some point during the summer or before, you learn that the President's son was receiving & responding to direct messages from website that was releasing emails stolen from the President's opponent by Russia
1st two years President's term, you watch him take a negative, adversarial stance toward NATO and particularly Germany. This strains your relationship with your most valuable intel partners, your Counterterrorism agent colleagues depend on them & they help fight war on terror
Over next 2 years, President aggressively seeks meetings with Putin who helped elect him. Need for meetings is not clear. one President meets in private with Putin for 2 hours without witnesses but translator. To this day, you, your bosses don't really know what was discussed
President emerges from private meeting with Putin and on world stage in Helsinki accepts and validates Russian denials about election interference & rejects years of your teams intel work. This badly damages your reputation and partner trust with your organization
Separately, your President publicly discusses a Russian proposed partnership on cyber security, this insane concept is mind boggling to you as an investigator as you've just spent years tracking these same Russians who just attacked your country
Even further, your President publicly mentions a possible exchange where Russian investigators might interview and interrogate you and other Americans about their attack on you and America. A crazy, frightening and bizarre threat to you as a civil servant.
Throughout your investigation into Russian interference, you watch as your President's attacks on the Special Counsel, Justice Department & FBI are amplified and spread in America by the very Russian troll social media accounts and state sponsored propaganda you are investigating
Throughout the Special Counsel indictments, hearings and trials, you watch the President and his legal team publicly interject, discredit witnesses and discuss pardons, all subverting the rule of law and justice which you've dedicated your life to protect and defend
You either know or learn a parallel investigation shows Russians representing a bogus Russian gun rights movement penetrated the political party hosting members who've tried to discredit you – you recognize this as a TEXTBOOK espionage/influence op you learned at FBI academy
After two years, the Attorney General over you, who appropriately recused himself from Russia investigation, is fired for seemingly no clear reason after taking public lashings from the President
Your AG is replaced by an acting AG whose unqualified for position, has limited experience justify such high level appointment, you've watched him on TV discrediting your agency and your team's investigation despite seeing none of evidence or knowing anything Russian influence
The same month, the President's personal lawyer pleads guilty in federal court and says he continued negotiations throughout almost the entire Presidential campaign for a Tower in Moscow. This is in opposition to President's public denials.
You read public reporting that the best apartment in the Moscow Tower project pursued by the President's business was offered to Russia's President Putin, the same Putin your President always sides with over you and your agency, the Putin who helped your President win
You either knew or learned through a redaction error that the President's campaign manager was alleged to have lied about providing polling data to a Russian whom he owed money, via a former Russian GRU contact
Wrote thread through day from memory without web searches, I'm sure I missed a lot, & this is all on the public, can't imagine what it must feel like to serve FBI during this investigation,we clearly don't know everything Mueller team knows, I imagine there is much more to learn
Special Counsel investigation must continue, this is a crisis, this is a national emergency
That's just the short version of events.
COHEN, NEW YORK, AND THE OTHER LAWSUITS
SHUTDOWN & IMMIGRATION
David Farenthold: In Tampa, they set up a food bank in the airport, for the TSA agents working without pay.
'Could you make these guys essential?': Mortgage industry gets shutdown relief after appeal to senior Treasury officials
Caroline Orr: Today is the 21st day of the #TrumpShutdown, meaning that it is now tied for the longest government shutdown on record. Unless a miracle happens today, Trump is about to preside over the longest shutdown ever.
Ilhan Omar: If there was a real "National Emergency" at the border: -Why didn't Trump declare one before the gov shut down? -Why didn't he declare one before 800,000 workers & our economy lost tens of billions? -Why now when border apprehensions are at 45 year low? We don't buy it.
Mike Pence Once Criticized Barack Obama for the Exact Same Thing Donald Trump is Threatening to Do During Government Shutdown
Rogue Senior White House Advisor: This shutdown could end TODAY if the GOP wanted it to. Once again, they are complicit – perhaps most guilty of anyone – in the disintegration of this country. Let's hope we get the chance to VOTE THEM ALL OUT.
Ally Maynard: Last year lettuce killed more Americans than undocumented immigrants so it's a good thing we're halting food inspections over a wall that won't work.
Sarah Chadwick: the fact that trump wants to spend over a billion dollars to build a wall when people in this country still don't have access to clean water really shows where his priorities lie ( and it's not with the american people)
Tea Pain: Amidst all the news that Mueller is about to drop his report, Trump kicks his phony wall "crisis" into overdrive. It's no big mystery, these two things are 100% linked. Trump's only plan to survive is to build a bigger fire than Mueller's and hope you can't tell 'em apart.
Trump says he is not looking to declare a national emergency 'right now' for border wall, urges Democrats to vote again on funding
'It's a bad precedent' — GOP Sen. Grassley warns Trump not to declare a national emergency to get his border wall
'The story keeps changing': Trump falsely asserts he never promised Mexico would directly pay for the border wall
Republicans fear the next Democratic president could declare an emergency over climate change or guns

 

'We all have bills. We all have to eat.' For furloughed federal workers, the first missed paychecks ratchet up anxiety.
According to customs & border patrol, illegal entries at southern border is down 76% since its 2000 peak.
Houston, Miami airports close checkpoints after TSA officers call in sick during government shutdown
Hirono blasts McConnell's explanation for blocking funding bills: 'One of the lamest excuses I've heard'
The local Vietnamese community is on edge after reports that the Trump administration is trying to renegotiate a treaty with Vietnam that would allow Trump to deport thousands of people—including people who came to the U.S. as orphaned babies during the Vietnam war.
TRUMP THE RUSSIAN ASSET A.K.A. INDIVIDUAL-1
Pro-Trump Dark Money Groups Are Gearing Up to Sabotage the 2020 Dem Primary
Trump goes on Twitter tear after learning FBI investigated him as a possible Russian agent
Trump rages about FBI's reported probe into Comey's firing
Trump administration lays groundwork to declare national emergency to build wall
Trump apparently plans to raid Army disaster relief and construction funds to build his wall
Trump may declare a national emergency in the border wall battle. Here's what that means.
Trump Wants To Take Money From Actual Crises To Fund One He Made Up 
Trump's Threat of National Emergency Declaration Explained
Trump is the president of the Republican base — not the country
Trump Goes On Racist Tirade Against Elizabeth Warren Amid New Russia Scandals | HuffPost
As Trump eyes a potential national emergency, Democrats see a possible lawsuit
Spicy Mic: A couple of thoughts: Seperation of powers, sure @realDonaldTrump "can" declare a National Emergency but expect a gladiator style fight. Article 1 Section 8 of Article 1 But more importantly, Trump should read SCOTUS👇🏻Youngstown, Sheet & Tube Co. v. Sawyer, 343 U.S. 579. THREAD
TRAITOR TOTS
GoFundMe Border Wall Campaign Implodes, Turns to Kris Kobach and Sheriff Clarke
GoFundMe is refunding all donations made to the 'Build the Wall' fundraiser
Senate Democrats Call For DOJ Ethics Probe After Whitaker Non-Recusal 
Senate Democrats want Matthew Whitaker investigated by Justice Department for not recusing himself in Mueller probe
The Death Logic behind Trumpism: Even nuclear winter would be worth it to own the libs
FIGHTING BACK
RIGHT WING TERRORISM & WHITE NATIONALISM
I didn't get it until just now. The reason it's so easy for many southern conservative Evangelicals to praise Putin and to reach out to him for help in their culture war is because they've never felt like Americans. They're confederates fighting their War of Northern Aggression.

They see, perhaps unconsciously, reaching out to a foreign country to help them win their war as a natural thing allies do. To them it isn't treason. To them the Civil War never ended. And Mr. Trump whose father was close to the KKK if not a member is Jefferson Davis reincarnate.

The last known Civil War veteran died in 1956. My parents were teenagers then. https://en.wikipedia.org/wiki/Albert_Woolson …

All of the "exits" Putin has been pushing in America are a version of secession. It plays right into deep psychological southern sentiments even when his dupes urge it for California and doubly so when they urge it for Texas.
KHASHOGGI & SAUDI ARABIA
SCOTUS & COURTS
#METOO & WOMEN'S RIGHTS
COLD WAR 2.0
#NEVERAGAIN
Alex Jones
FIXING THE INTERNET
THE PROPAGANDA MACHINE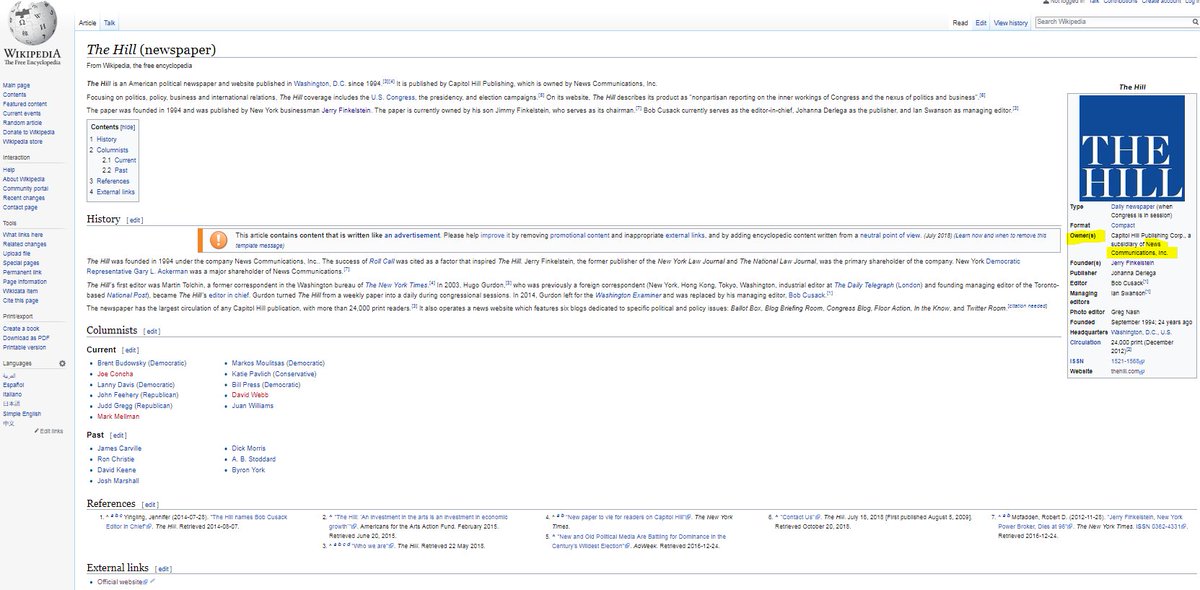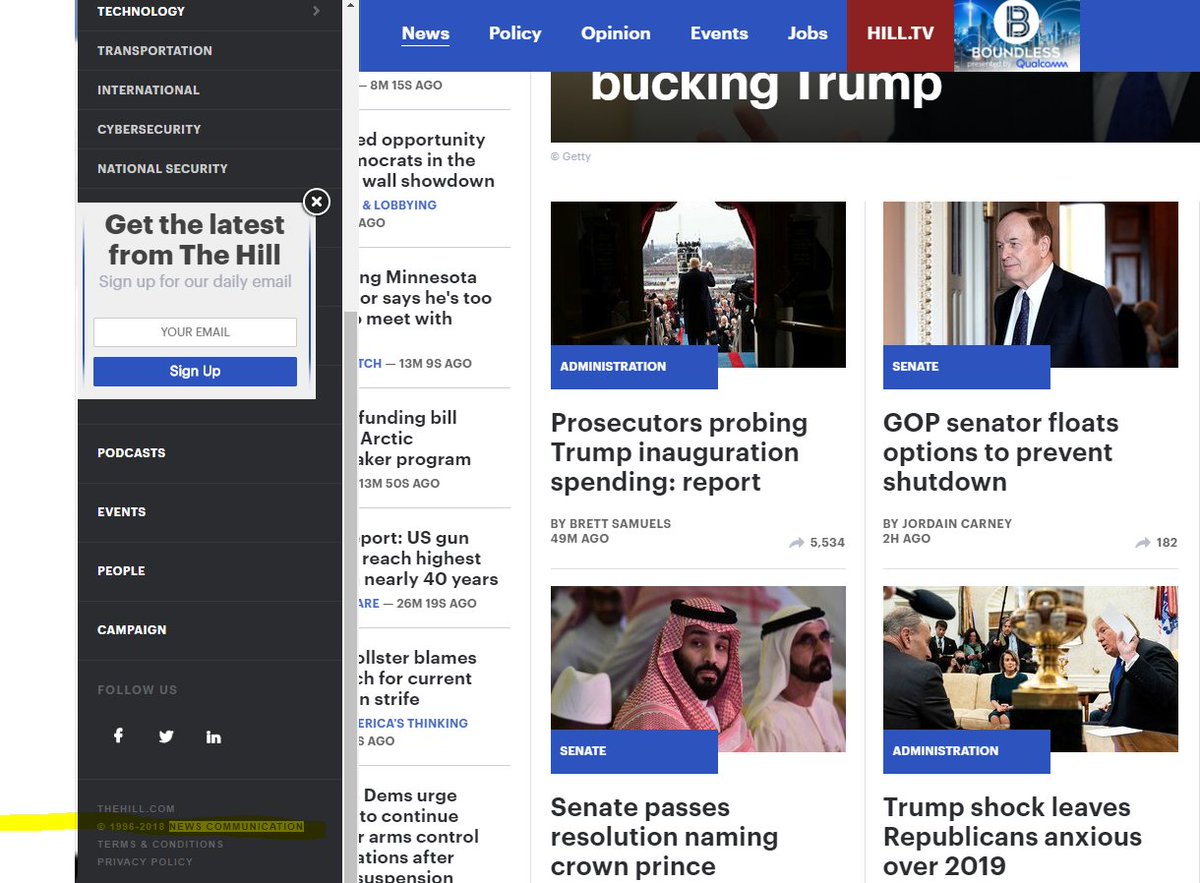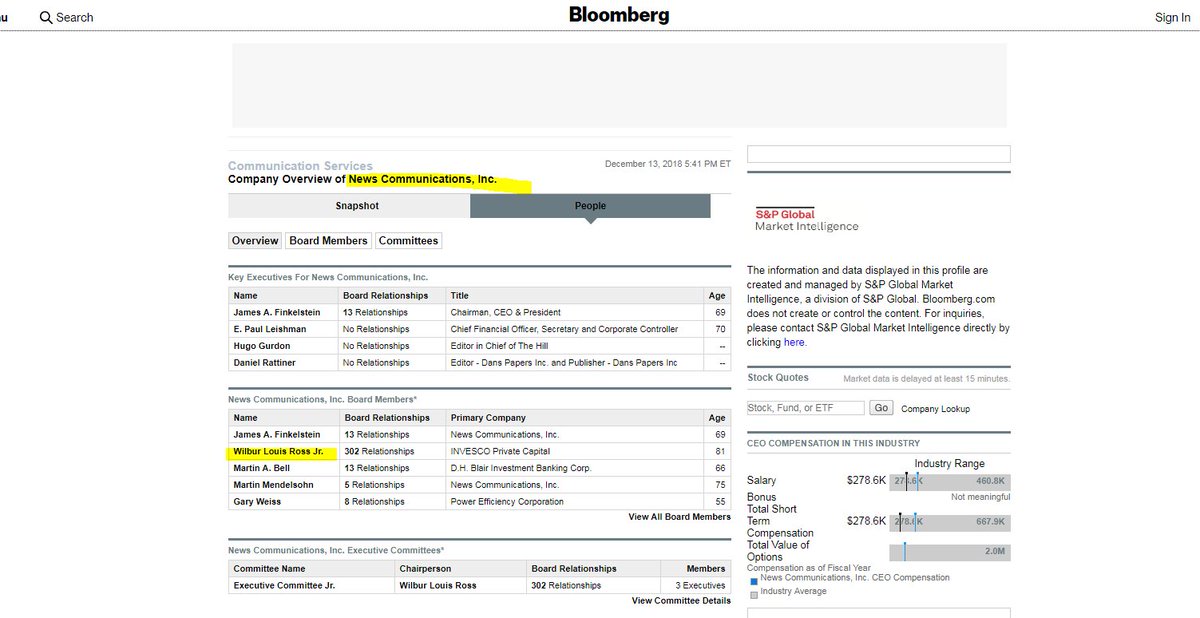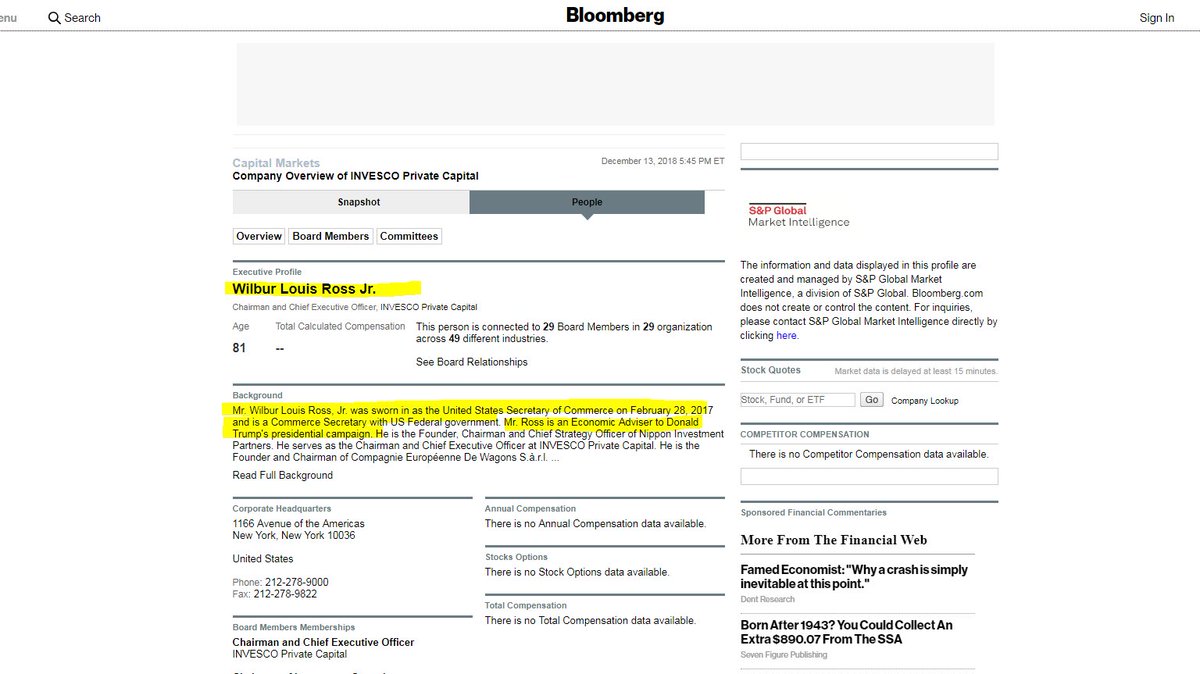 WHITE HOUSE CHAOS
TRADE WAR AND ECONOMY
GOP: THE PARTY OF LINCOLN IS DEAD
CRIME AND PUNISHMENT
ENVIRONMENT & SCIENCE
CONGRESS
ELECTIONS
THINKING AHEAD
PROGRESS IS PROGRESS
IN OTHER NEWS…
RUMOR MILL
I fucking know it is. I know for a fact he was abusing her when she was 5 years old. Our daycare teachers called cps on her and it was covered up.
This is a pretty outrageous claim, but we've seen similar rumors before.  Not only does this fit with a lot of Trump's behavior, but it wouldn't be the first time that a rich person had a claim against them squashed.  According to the comments in this thread, the user claims that there was a CPS claim made against Trump for abusing Ivanka back in winter 1987.  The user claimed this happened at Unity Montessori School.  After the claim was made to CPS, nothing happened.  He says he made multiple calls to investigators and at least 6 news outlets, but so far the story has not been picked up on.
It's not my job to investigate this type of claim, but doing a very cursory search, this place is in the Delray Beach area, right outside of Palm Beach.  The tuition is ridiculously expensive, and the pictures were overwhelmingly filled with white kids.  And the timing goes from winter to Easter 1987.  This was during the time Tony Schwartz was writing "Art of the Deal", and he did stay at Mar-a-Lago during that time.  The club is about twenty minutes from the daycare.
Like I said, there's been rumors and reports of Trump preying on girls before, but none of the reports thus far have been about a five year old girl.  Then again, it's his daughter Ivanka.
That's it for the last few days.  A crazy few days it's been, too.  And it's going to get even weirder from here on out.
A lot of the stories that came out in the last couple days weren't revelations to anyone who's been paying attention, but are bombshells to the masses.  Hearing that the FBI thought that the President might be a spy while dozens of people around him had multiple contacts with the Russians, all while trying to keep the translators from telling anyone what happened in meetings between the President and the head of a country that continues to attack us to this day is disturbing at best.  And all of this comes out while the President refuses to budge on his demands for funding for a border wall that is forcing the government into a shutdown.
For a while, I've tried to look at all of Trump's actions through the lens of a criminal and an asset of a foreign power.  Is there anything that he's done in office that would be different from the Manchurian Candidate?  So far, I can't find a single thing that's different.  Everything he's done has at least a shade of shadiness to it.  Nothing he's done could be considered selfless, professional, presidential, or altruistic.
Take for example the current government shutdown.  He's acting out of fear.  Fear for knowing that if he caves on the wall, he'll never get it and his "base" will turn on him faster than yinzers after Big Ben throws a Pick 6.  But if he doesn't cave, the rest of the country will suffer.  If the shutdown lasts much longer, airline travel will collapse, food inspections that are getting missed will kill people, and the economy will teeter further into a recession.  He's back himself into a corner, and his only options are to hope Chuck and Nancy blink first, capitulate on his demands, try to find a compromise, or try the emergency declaration route.  Only one of those options has Trump come out on top without screwing everything up, and that looks less likely by the day.  But all of the options hurt the United States and help our enemies.
If Trump gets Chuck and Nancy to blink here, he'll do it again and again again.  He's already shown he can't be trusted, so they won't trust him.
If Trump backs down on his demand for a wall, his base will eat him alive.  He needs them to survive an Impeachment trial.  If enough senators are scared of his voters, they might not vote to expel him.  I'm assuming at this point that Impeachment is a question of When, not If.
The only way I can see them give Trump a wall is if they tie it to a whole bunch of things that have to happen first, like rescinding the tax cut on the one percent, expand Medicare to everyone, and go all-in on DACA.  They would make an offer so onerous for Trump that if he accepted it, the Senate would destroy him.
If he declares a national emergency to bypass Congress, he will lose in the courts and the court of public opinion.  Anyone who thinks that him declaring an emergency is a good thing doesn't have the country's best interests in mind.
None of these actions are good for the United States, but they're great for our enemies.  The longer we're dicking around with fighting over this stupid wall, the more it hurts our standing in the world, the worse it hurts our economy, and the worse it hurts our allies.  The only people that benefit from this are our enemies.
Which begs the question, why would the President of the United States want to hurt the country so bad if he was loyal to the United States?
If he's not loyal, then his actions make sense.
Thank you, and have a good one.
"Without Journalists, it's just propaganda."
– Katy Tur